Season 1, Episode 23 - This week, a Duck Duck Gooze side-by-side, and some, er, interesting homebrew from Nagel.
Welcome to November. It's that special time of year when we get together with our families, roast birds in the oven, and drink barrel-aged beer to keep warm in the brisk winter weather. On the show this week, we're cracking open two beers from The Lost Abbey called Duck Duck Gooze. You may have heard of it. It's an excellent sour that many beer geeks consider to be a "whalez, bro". No hype here. It's fantastic.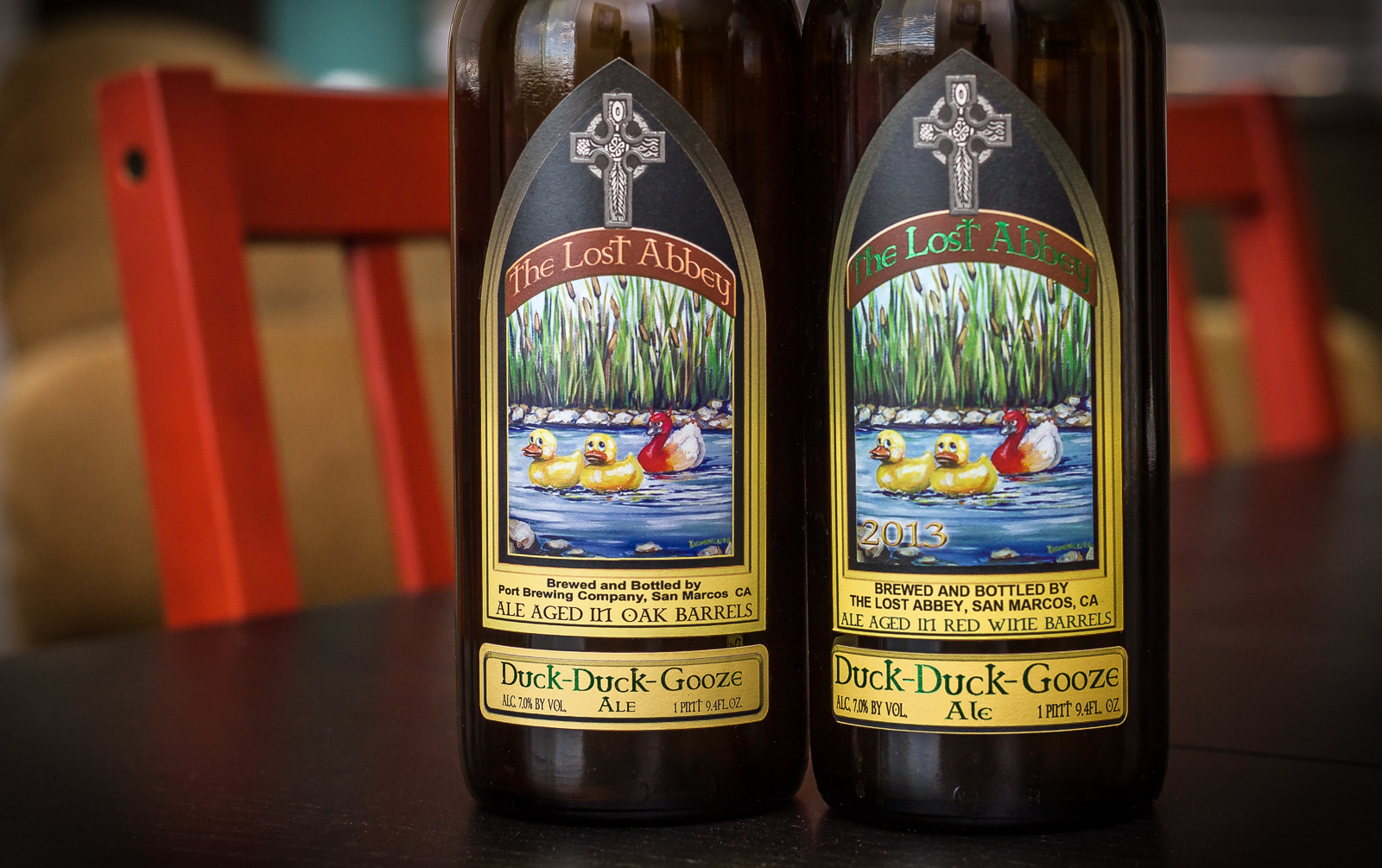 The Lost Abbey – Duck Duck Gooze 2009 & 2013.
Matt really knocked it out of the park for this episode by providing not only one, but two variants of the DDG, one from 2009, and one from the most current 2013 release, which was provided to him by his super-rad boss, Patrick Rue. So, thanks Matt…and Pat!
We break away from the drinking for a bit to discuss the recent IPA showdown at Vendome Wine & Spirits in Toluca Lake, CA. The results may surprise you…
Greg brought two homebrews for us to try this week, one made with sourdough yeast (yes, really), and the other, a Tart Of Darkness clone, which was a More Beer homebrew kit.
We start with his Tart of Darkness clone. The beer itself turned out OK, but this homebrew teaches us that making a sour beer that's on the level of The Bruery's Tart of Darkness takes a lot more time and work that just adding bacteria to wort.
Next, we try Greg's collaboration beer that he made with OC Baking Company. Greg did a five day sour mash for this beer and fermented it with sourdough bread yeast from OC Baking Company. The beer really didn't turn out well–we're not gonna lie. Not all experiments turn out well. Sorry, Greg, but thanks for the beer!
We mentioned The Festival on the show, which is a badass beer festival hosted by Shelton Brothers. Tickets are still available. It's going to be epic…
BREW THE SHIT OUT OF IT!
Subscribe to the show:
RSS
iTunes – While you're there, give a review of the podcast!
Stitcher
Thumb us up on Facebook:
facebook.com/fourbrewers
Follow us on Twitter:
twitter.com/fourbrewersshow
Got a question? Feedback? Email us:
feedback at fourbrewers dot com.
Help support Four Brewers!
Donate via PayPal